Just yesterday morning a gunman stormed into a Pakistan University and shot at least 80 people, twenty of which have been declared dead and 60 injured. Gun related tragedies happen every day around the world and as well as right in our nation. In America alone, there have been 90 mass shootings in the past fifty years. America accounts for a mere five percent of the world's population, yet almost one third of the world's mass shootings have occurred in the US during this time period 1. The second leading country had a relatively lower number of 18 mass shootings during the same time period, substantiating that the exceptional nature of America's mass shooter problem is unparalleled around the globe.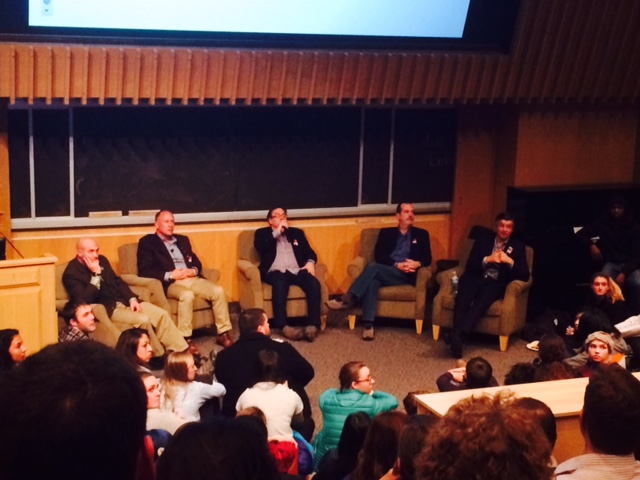 Tuesday night, a neuroscientist, a guitarist, a graphic designer, and an IBM executive came to Bucknell to speak about gun violence in America. What brought together these men, from all different backgrounds, was one thing: they each had a young child who was shot and killed at Sandy Hook Elementary School in Newtown, Connecticut on December 14, 2012. Fathers Jeremy Richman, Mark Barden, David Wheeler, and Ian Hockley entered into the packed ELC Forum with a mission. They didn't come just to speak about their incomprehensible loss and the tragedy that took place that day. Rather, they came to Bucknell to enlighten students about our social responsibility to advance the world to a point where massacres like this do not take place. Topics of the night's discussion ranged from researching the biological and chemical factors of the brain, increasing awareness about compassion and connectedness, and recognizing violent behavior. They also touched upon more personal subjects regarding grief, forgiveness, and hope.
President Bravman introduced the four fathers. "As a father of four, " Bravman said, "it is every parent's worst nightmare to lose a child. I can relate to that because I have lost a child." After his quick yet heart-rending moment of silence at the mike, he continued, "I am deeply honored to be with these men tonight. We have the power to turn this experience into something positive." He concluded by urging us to not just listen but show that we heard. If we listen with our soul, heart, and mind to these fathers speak, we can make this community however incrementally better.And with that, the Q and A with mediator Scott Wolfman, began.
Q: Why are you doing this public discussion work and what is your motive?
Jeremy (Neuroscientist): As a father of a child murdered at Sandy Hook Elementary School along with her 19 friends and classmates, I have learned that this world needs clean up. I am here to engage this innovative audience to think of solutions.
Mark (Guitarist): Daniel was seven when he was shot to death. My former life was magical – I was blessed with happy, smart kids who slept in the same bed together out of choice. After the shooting, I had two questions – simple but important. How did this happen? Why would someone do this? It became immediately apparent I had to find the answers. I have learned in my search that complacency is our biggest enemy. Despite what many people think, we aren't helpless. We aren't hopeless.
David (Graphic Designer): I moved to Sandy Hook in 2007. It had a good school system, good lawn, made sense. I had two kids, Nate who was nine and Ben who was six. They were best friends. I have had lots of experience public speaking, [so when Ben was killed], it seemed like a natural process to deal with this tragedy by speaking about it. It is almost a cliche, the term, "you are the future," but it couldn't be more accurate. Whatever happens in the country has a lot to do with how you live life. We can find tremendous hope and optimism from all different walks of life but it is really important to remind people to go out and create it or find it.
Ian (Previous IBM Executive): My son Dylan, who had autism, was found in the arms of his aid that day, both shot and killed. I have always been shy and stayed out of the media but after this shooting, I realized I had to use my voice to advocate for people with autism.
Q: What is your source of strength. What serves as a constant in your respected life?
David: That is a complicated question because I don't have one source of strength. My wife and kids, certainly. In November 2015, my wife and I had another child and it has brought a lot of joy into an unnaturally quiet house. Nate has now formed a new and powerful bond with his new sibling. It is a great source of strength for us to see this and to know that there are good people everywhere, wanting to help.
Ian: Many sources. The days and weeks after [the shooting] the friends we had made a wall around us and protected us. They lifted us up when we were down. The Tuesday after the shooting, I saw a pile as big of stuffed animals and toys that would fill this room. It showed that this tragedy had affected everyone – it emanated love.
Mark: After the shooting, I was meeting with President Obama. As I was talking with him – the president of the United States – my daughter Natalie called me. "Hi Dad, I am going to the library, want anything?" My heart just melted. She is my source of strength. My neighbors, who came to my door almost every night with dinner, were another source. And these guys [gesturing to the other speakers] nourish me. We don't need to talk about our common shared tragedy all the time. Sometimes we just like to goof off.
Jeremy: Sometimes it is hard for me to get out of bed. I have different motivations to get me out. Some days are hard and some easy. Sometimes I just have to pee really bad. But in all reality, it is usually friends and family.
Q: How has your grief evolved from the first days until now?
Mark: I don't know if it has evolved. It goes back and forth. Last night, I didn't sleep at all [David nodded his head in agreement]. I recently saw a video of my son singing in a Christmas concert. Seeing him and hearing his voice was so raw, fresh, and palpable. I can go along for days and be fine but then I know it is coming, like when you are sick and know you are going to vomit. It just hits me and takes me down.
David: Grief is like having incredibly heaving stones we have to wear in our coat pocket. We have no choice. They are there and we cannot ignore them. As time goes on though, we get used to them until one day you don't notice them. Then out of nowhere, you'll make a move and there they are, bruising you again, taking you down. The ways to deal with these stones in our pockets, however, are as individual as a thumbprint.
Ian: I had to move out of my home. I shut down entirely. I have been sent many books on grief and looking back, I am glad I didn't open a single one.
Q: How do you feel about forgiveness and does forgiveness have application to your journey?
Jeremy: "Few are guilty but all are responsible." The human species have evolved to share a common experience and if something goes wrong, that means I played a part. We can also take responsibility in helping. However, I am really effing far from forgiveness.
Mark: Forgiveness is intangible to me. It's a slippery notion that I can't get a handle of. When my daughter asked me, "Daddy, how do we know who the bad people are?" Since then I have been on a philosophical journey to find the answer. 
David: Forgiveness doesn't mean letting them off the hook. You're not going to carry anger and let them have that power over you. If you don't forgive, what are you left with? You thought those stones in your pocket were bad but now you have just added more.
Ian: I ask myself why did we move to Sandy Hook. Why did he go to school that day? But I first need to forgive myself. What is unforgivable is the lack of action of not just tracking guns but tracking mental illnesses.
Q: Where would you want our society to be in fifty years and what needs to happen in order for this to occur?
Jeremy: Unfortunately, brain science is one of the least explored sciences of all. We need to support the research in order treat and understand this mystical organ.
Mark: When my son was in kindergarten, he really connected with a girl who was nonverbal. To him, her silence was not a barrier. Kids should learn this compassion and awareness of connection at a young age. No one should sit alone at lunch. If we can solve social isolation, we can solve a lot more problems that happen as a result of that.
Ian: The human race has an obsession with violence. Think of the media. Violence and sex sells. Love and compassion just sells Valentine's Day cards. This mindset needs to change.
David: Violence does not happen if humans don't have the capacity to see violent answers as the solution. If we can research the brain and find the genetic marker that causes certain people to be violent, we can catch it early and treat them. Think of the medical advances in the past fifty years. It's not impossible.
Q: How has your relationship with your immediate family changed?
David: A year ago I lost my father to a heart attack. I don't think it is hyperbolic to believe that event was related to his grandson's murder. My family has been shattered. However, I think we are going to make it. We have made it to the three year mark. The first year is shock. Second year is planning how to come to terms and deal with this tragedy. The third year is realizing that everything we planned won't work.
Mark: James [his newborn] and Nate have rescued Jackie and me. They have seen us in a strange territory – wrapped in each other's arms crying on the kitchen floor. And they have lifted us up. Some outside relationships were closed off while others became stronger.
Jeremy: Nothing really has changed. My friends bring me a lot more tequila but other than that my inner circle of friends has always been profoundly important in my life and have stayed so throughout this.
Ian: I got divorced. I was married for twenty-two years. My wife and I couldn't look after each other the way we needed to and it was the right decision for us and for our remaining son Jake.
Q: What was your reaction to President Obama's decision to halt gun violence?
David: This entire country has a fatally benign relationship with these consumer products that can just be so easily made, bought, and sold. However, we do not regulate firearms like any other consumer product. [This exemption has allowed gunmakers to innovate for lethality rather than safety.] All I am asking is for a level playing field.
After a few more student questions, the speakers concluded with advice for us. 
Engage with each other, with the local community, with the nation. "Think of scenarios like a row of Dominos," David said, "if we stick our hand in one space we can prevent the rest from falling. All it can take is one action." In light of Martin Luther King Jr. Day this past Monday, it is our responsibility to recognize, understand, and act to undermine all the hate and violence in the world. As educated students, we have the power to do so. To conclude with MLK's Nobel Peace Prize Acceptance Speech, "I still believe that one day mankind will bow before the altars of God and be crowned triumphant over war and bloodshed, and nonviolent redemptive good will proclaim the rule of the land."
Learn more about their organizations:
Jeremy: The Avielle Foundation, named for his daughter stresses compassion and mental health, or as he puts it, "brain health."
Mark: Sandy Hook Promise Prevention Program. The goal of the program is "not to push for a ban on firearms but rather to promote safe and responsible firearm use and ownership" 2
David: Ben's Lighthouse. Extra events and activities in the months and years following the shooting to "guide and protect" children and promote "resiliency skills, friendship and mentoring for those kids who needed it most."
Ian: Dylan's Wings of Change. The foundation's mission is "to help children with autism and other related conditions achieve their full potential."