Tucked into a little side street off Market Street is a new yoga studio in town. Leanne Matullo, the founder of Yoga Dear, has brought health, happiness, and a new sense of community in this new year to Lewisburg. Her mission for Yoga Dear, an acronym for "Developing self-Esteem And Respect," is to forge a mind body connection through fitness and individualized practice in a comfortable yogi-centric community. Through the practice of yoga, Leanne believes we have the power to create a unique sense of self and place in the world. I sat down with Leanne to learn more about her background, philosophies, goals, and to discuss the joy that this creative and spiritual movement can bring to all.
When did you start practicing yoga and why? 
I was a dancer in college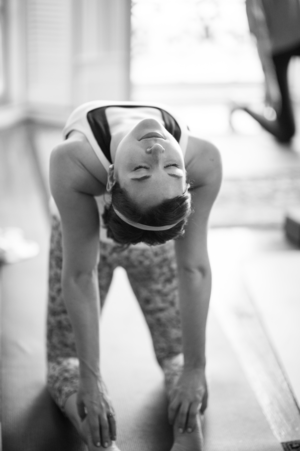 and after I stopped performing, I wanted to get into yoga. I took my first yoga class in Pittsburgh six years ago and actually really didn't like it at first. I kept going back though. After a couple of times getting used to the foreign language, crazy poses, and focused breathing, I began to enjoy it.

What do you love most about practicing yoga and yoga itself? 
Yoga offers infinite possibilities. There is always something to work on, there is always something new to master. For me, yoga is a freedom – freedom from your mind, from around you. It is just you and the mat and your movement. That is peace to me.
Tell me about your studio. - What inspired you to open up a studio in Lewisburg?
Everyone asks where "Dear" comes from. I started out teaching for at risk youth and focused on developing self esteem and respect – so that is where "dear" originated. I want this studio space to be approachable, fun, and playful, where we can meet new friends, laugh, and interact with the energetic and enthusiastic students and teachers.
What makes your studio different/better than the ones in the local area or offered at KLARC?
Yoga Dear focuses on a more individualized practice while still building a community with the others around you. I wanted our niche to be a powerful style – we are going to work and we are going to feel it.
Many people in this country still equate yoga solely with movement and do not consider the spiritual aspect. How do you deal with this at Yoga Dear? 
Most people come here for movement but can still benefit from the spiritual aspects especially as they come further and further into the practice. Throughout the class, we weave in pranayama [breathing techniques], ancient yoga texts, philosophy to incorporate meditation and spiritual aspects. It can be a learning practice as well, since we mention the limbs of the eight-fold path to yoga. These are respect for others (yama) and yourself (niyama); harmony with your body (asana), your energy (pranayama), and last four parts [your thoughts (dharana), and your emotions (pratyahara); contemplation (dhyana); ecstasy (samadhi)] which all relate to meditation.
Since yoga combines body, breath, mind and spirit, how can someone gradually increase progress in each of those four areas?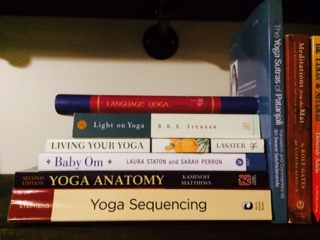 Yoga is transformative and healing. It is hard for me to explain but after taking 2 to 3 classes a week, I have become more spiritual because of the results I have seen. The book Living Your Yoga explains this.*
What advice would you tell a first-timer attending a private yoga studio? 
Give me three classes and then make a decision. If you come in with an open mind and know it is okay to not know all the poses or fall, that is totally fine. Everyone falls in first yoga class. Most importantly, have a good time and laugh.
What in your opinion are the greatest health benefits of doing yoga? 
In a culture that sits a lot, I believe that overall mobility is the greatest health benefit. Additionally, yoga is a great way to use the mind body connection as a huge anxiety and stress relief. You learn that you not only can watch and observe your thoughts but control them as well.
Do you actively meditate? 
I meditate every morning to set the tone of my day. The practice is very grounding for me since I am such a spiritual person. Sometimes I do it for two minutes, sometimes fifteen, with music or silence, on my own or guided.

After we wrapped up our interview, I stayed to attend the Power Flow class taught by friend and roommate Heather Oros. In such a warm and welcoming space, I felt at ease, allowing for a deeper awareness of the interactions of my body, mind, and spirit. Although the more advanced teaching was distinct, detailed, and serious, the atmosphere remained playful and fun, enabling me to feel comfortable trying new things. By observing and feeling the overall energy in the room during savasana, it seemed that each individual found their own personal level of achievement and reward in their practices.
*Living Your Yoga: Finding the Spiritual in Everyday Life by Judith Hanson Lasater Ph.D. is about discovering the "meaning of yoga beyond its familiar poses and breathing techniques to include the events of daily life"
Classes:
Yoga Dear Beginner, Sunny Side Up (early morning Asana class), Yoga Dear 1 (beginner/intermediate), Yoga Dear 2 (intermediate/advanced), Power Flow, Peaceful Practice, Yoga Barre, Gentle Yoga, and Asana Junkies
Click here for a description of each class
Click here for class schedule
This Friday January 29: Yoga Dear is hosting yoga and happy hour at 5:30 PM. The night is going to consist of a 50 minute yoga class and then happy hour with wine and beer! $15 for members, $20 for non members! 21+ only. Please reserve a space on the Mind/Body Connect app.
Memberships & Pricing
Yoga Dear Memberships:
10 Visit Pass – $120                   Expires three months after activation 
1 Month Unlimited – $100     Expires one month after activation
3 Month Unlimited – $265     Expires three months after activation 
Yearly Unlimited – $80/month with yearly contract
Also, for a limited time, students can get a monthly unlimited pass for $50.
Drop-in Rates:
Drop-in Class – $15
Student Drop-in – $10 (Please bring your student ID!)
10% Discount on all services for senior citizens (65+), veterans, and active duty servicemen and women. ID's required at time of service purchase. 
Student Rates (Please bring your ID!):
10 Visit Pass – $95        Expires three months after activation
1 Month Unlimited –  $90   Expires one month after activation
New Student Referral Program
Bring a new-to-Yoga Dear friend, parent, sibling, significant other to class and you'll both get $25 off your next service.
Enjoy and Namaste!
Carly