800 million people go to bed hungry every night. 3.1 million children under the age of five die of malnutrition every year. Almost 50 percent of people living in extreme poverty are 18 years old or younger. In September 2015, the United Nations set a goal to end world hunger by 2030. This may take a lot of work, but it does not require a new scientific breakthrough nor are the costs expensive – we have the tools and the resources, it's just a matter of implementing them. What it truly takes is the power of many to make a concerted effort to fight hunger. This week Bucknell hosts the Empty Bowls Project which is an international grassroots effort in which potters and artisans donate ceramic handcrafted bowls which are then bought and used as soup bowls for guests attending the event. The event raises money for Community Harvest Meal in Milton as well as awareness for Bucknellians and the local community in the fight to end hunger.
This year the Empty Bowls Project focuses specifically on how women are disproportionately affected by hunger and poverty. Discrimination against women is a major cause of persistent hunger. According to The Bread For the World Insitute's annual report, females' lack of bargaining power, unpaid care work, insufficient political representation all worsen the effects of poverty on their lives. Just by "increasing women's earning potential by boosting bargaining power, reducing gender inequality in unpaid work, increasing women's political representation, and eliminating the wage gap between male and female labor could help stem the worldwide epidemic" 1.  Additionally, with mother and fetus as an inseparable biological and social unit. female health and nutrition are inextricably linked with their children. Maternal malnutrition increases the risk of stillbirths and newborn deaths, intrauterine growth restriction, low birthweight (LBW), preterm birth, and birth defects. Thus, improving female nutrition will result in healthier mothers and babies. When we empower women and give them the tools they need to survive, we stand a much better chance of overcoming not only poverty but also intolerance, disease, and even extremism 2.
The Empty Bowls project at Bucknell helps in the worldwide effort to end hunger, extreme poverty, and gender inequality. This annual event, in which people can buy bowls that have crafted throughout the year, raises money for the Community Harvest Meal in Milton. This event has been providing people in our neighboring community with no income in this community meals for a decade now. This year, the focus on women is not only to highlight how poverty adversely affects women but to also promote International Women's Day which occurs at the beginning of March.
Lynn Peterson, head of the Bucknell Empty Bowls project, explained that apart from highlighting women's rights and gender equality, it also is a great way to raise awareness in Lewisburg about the ways we can help our community throughout the year. The Community Harvest, which serves a weekly hot meal program that serves 80-120 people every Monday evening and the Lewisburg Community Garden, which donates organic produce to local food programs, are always open to volunteers. Such programs enable people struggling with food insecurity to put their limited funds towards other expenses in their lives like heating, medication, and other necessities. Lynn's favorite part about being part of this initiative is that "it is great to see not only our campus community but also people from the Lewisburg area come together to support the EB event."
The effects of hunger are long-lasting with long-term effects that "can be felt for the rest of a person's life, impacting a child's ability to grow and learn, and even snuffing out their chances of survival entirely" 3.   For a simple donation of $10, we can enjoy a simple meal of soup and bread served in a hand-crafted bowl  and then take home the "empty bowl" as a reminder of the many individuals suffering from hunger. With the momentum gathering throughout the years to end this silent pandemic, there is never a better time to act. Famine gives us the chance to transform lives and stop hunger in its tracks.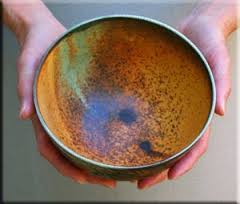 Event time & location: Thursday, March 10, from 11:30 A.M. to 2 P.M. and 4 to 7:30 P.M. in the Walls Lounge inside the Elaine Langone Center.
Hope to see you there!
Carly