Bucknell Speaker Series featuring Ellie Kemper, famous for her role as Erin Hannon in the NBC series The Office and current star in the Netflix series The Unbreakable Kimmy Schmidt. 
Actress and comedian Ellie Kemper, who gained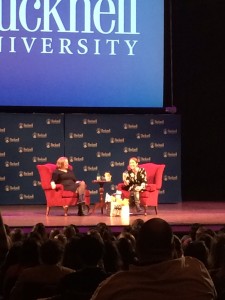 prominence for her role as Erin Hannon in the NBC series The Office and now stars in the Netflix series The Unbreakable Kimmy Schmidt, spoke at Bucknell's Weis Center for the Performing Arts Monday night. She is the final speaker in Bucknell's forum series "Revolution Redefined," which brings in speakers with multidisciplinary and diverse viewpoints to explore how society has – or has not – evolved over time. The various speakers grant us unique perspectives on how we can have meaningful impacts on society. In this particular talk, Kemper focused on her journey to success as a female comedian, encouraging the Bucknell audience to take risks, challenge opposition, and be agents of change.
Philosophy professor Sheila Lintott, who has taught courses on feminist philosophy and the philosophy of laughter, moderated the conversation. Lintott began the discussion by asking Kemper about how she got into comedy in the first place. Kemper, with her expectedly sweet and bubbly charm, answered that she had always had an interest in acting. In fact, in high school, Jon Hamm taught her improv in her theater class. However, she enrolled in Princeton to study English Literature and play field hockey, letting acting fall to the wayside. After too many games on the bench though, she quit field hockey because she believed her time could be better spent elsewhere. She honed her comedy skills and joined the Princeton's improvisation group Quipfire! and the musical theater group, Triangle. Yet again, she didn't think she would pursue comedy in the future. Instead, she continued her studies of English at Oxford after graduating. After a year, however, she left Oxford for New York when she took the risk to make her dream of acting into a reality.
Throughout her story to success, she kept using the word "quit." Though a word loaded with negative connotation, Kemper explains we don't need to view it that way: "There is no euphemism for quit. But, sometimes it is okay to take a step back to consider what your strengths and weaknesses are in order to reevaluate your decisions." This is often a key step to discovering true passions. Many studies substantiate that the risks taken when quitting are often worth it. Every step Kemper took led her to land her role as a co-star of The Office. In an audience full of questioning college students, Kemper's story resonated deeply.
Kemper, rather than considering her gender as an obstacle to overcome in order to achieve success, uses her gender to promote feminism – and with a humorous twist. In the discussion, Lintott referred to Christopher Hitchens' 2007 article for Vanity Fair "Why Women Aren't Funny" that "investigated" the "humor gap." He ponders, "Why are women, who have the whole male world at their mercy, not funny?" Predictably, this article received serious backlash from the female community. Kemper explains why she wrote a response to this in GQ in 2013. After Bridesmaids came out in 2011, people regularly asked her, "How did it feel to be in a movie with so many funny women?" This question, Kemper explains to the Bucknell audience, "makes no sense to me because all women are different. Some are tall. Some are short. Some women are funny. Some aren't." In her satiric "investigation" for GQ, she incorporates evolution, science, and logic in the same completely backwards way that the Hitchens did to challenge his senseless conclusions. Kemper aims to stop such gender stereotypes from perpetuating in order to create more opportunities for females.
During the Q and A with the audience, Kemper answers that her favorite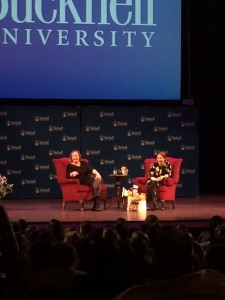 scene was the airplane scene in Bridesmaids – "it was like having front row seats to a circus. Throughout the scene, there are various actors cracking up who weren't supposed to be." She also finally settled the question for devout Office fans, on what it was like saying goodbye to Michael Scott as a character and Steve Carell as an actor. Kemper says, "It was a very dramatic moment for me. In one scene, I am just in the background at my desk crying and I am not even supposed to be a part of that scene. I was just so choked up. Steve Carell is such a kind person, which is the reason why Michael Scott is so ultimately endearing. I am so lucky to have been able to work with him." On this nostalgic note, Lintott concluded, leaving us in anticipation of Kemper's second season of The Unbreakable Kimmy Schmidt coming April 15th.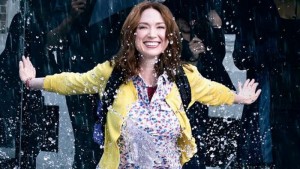 -Carly