"In elementary school we knew it was going to be a great day when the teacher wheeled out the TV," Bucknell student Devon Wasson reminisced during his introduction for Bill Nye. Bill Nye, best known as the host of the Disney/PBS children's science show Bill Nye the Science Guy spoke at Bucknell's Weis Center last Tuesday in what could be possibly be one of Lewisburg's most anticipated visitors all year. The auditorium was packed with students who had stood in line for hours to get tickets and for good reason. Bill Nye "The "Science Guy" was an inspiration for us all. He simplified complex matters, encouraged us to ask questions about the world and challenged us to find the answers, and even pursued some of us to pursue science as a degree. Apart from his role as science educator, he is an unapologetic champion of social reform. "Most importantly," in the words of Wasson, "he showed us that science rules!"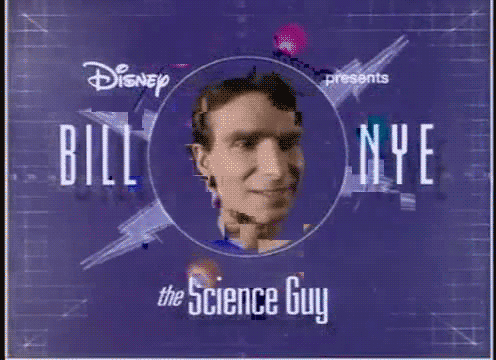 Once Bill Nye jumped out on stage with his same energy and zany dance moves we know and love, the law of energy, as we learned from him years ago, was transferred from him to the audience. Like little kids again, we eagerly awaited what we would learn next. Projected on a screen on stage was photo taken of Earth on December 24, 1968. This photo was the first time human kind had seen the Earth from this perspective –as tiny little sphere suspended in the all-encompassing black mass of space. After setting the theme for his speech based mainly on space exploration, he begins his story here on planet earth.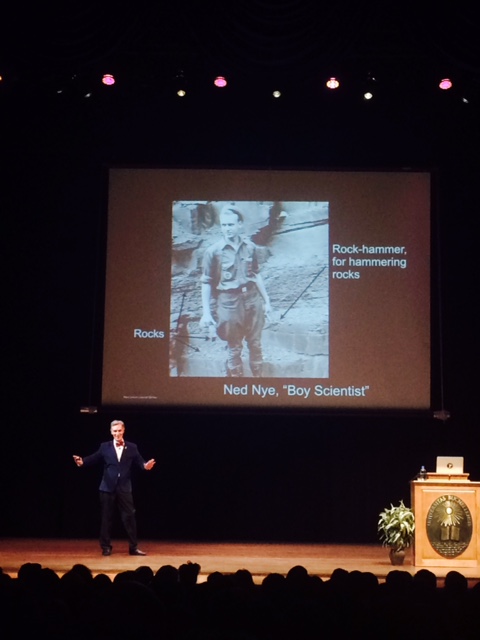 Before Bill Nye was born, his father Ned Nye was a construction worker during the summers on a little atoll in the Pacific called Wake Island. In 1941, however, his father and mother decided to stay on this pacific island for the year. On December 7th, the day of the attack on Pearl Harbor, the Japanese also bombed Wake Island among with many other Pacific Ocean targets. Nye's father fought back for two weeks but on Christmas Eve, he was captured. His father spent 44 months as a prisoner of war- "longer than anyone else in the United States." While Bill Nye's father was prisoner, he used his science (and a photo of his wife) to keep him sane. Ned became fascinated by the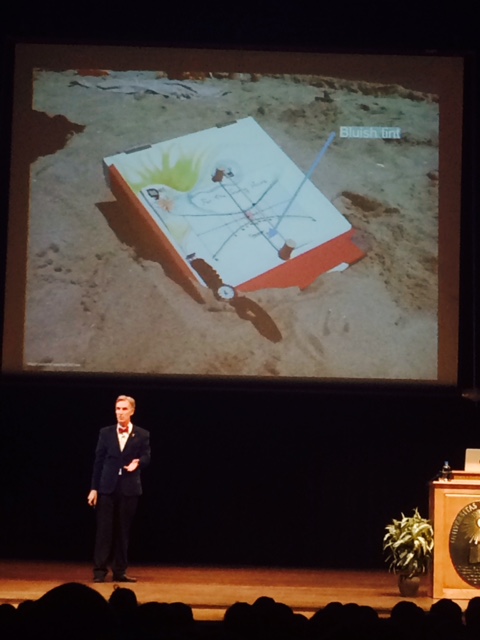 sky and used the shadows from the sun on a shovel handle to gauge the time. After surviving imprisonment, he continued to pursue his interest of the sundial, going on to write books about the simple yet significant scientific instrument.
Bill Nye inherited his father's fascination with sundials. In 1998, when Bill Nye learned about the U.S. Surveyor mission to Mars, he saw that one of the scientific instruments they would use had a vertical pole attached; "It's a sundial!" he exclaimed in striking realization. He foresaw an opportunity to merge his interest of sundials, science, and space exploration into this mission and campaigned to have sundials aboard Spirit and Opportunity Mars exploration rovers. The MarsDial revealed to be huge implications for the intergalactic world. NASA scientists were able to determine Martian time from the sundial shadows and, along the way, discovered something unexpected. Mars casts a different shadow than that of Earth. Nye coined this term orangidescence to describe the orange Martian sky (think: the poster for the movie the Martian). Since, then more Mars missions have had major discoveries, such as the evidence of water flow on Mars, proved that there is evidence of life on Mars, "which just totally rocks!"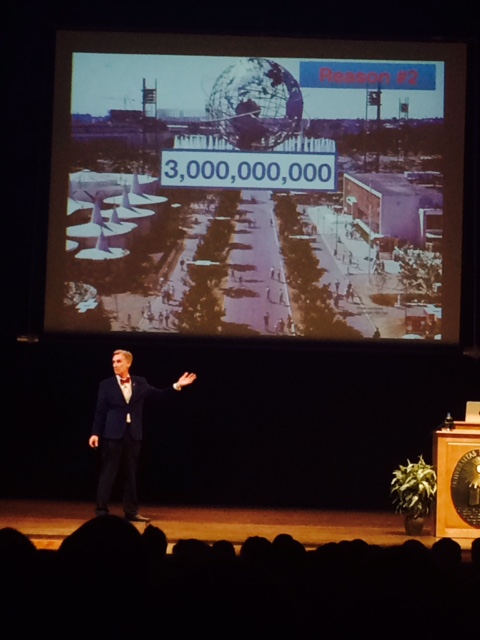 The exploration of this planet also led to the finding that the Martian atmosphere is .007 times Earth's. But that was in 1998 when the carbon dioxide in Earth's atmosphere was .03 parts per million. Now, in 2015, Earth's carbon dioxide in Earth's atmosphere is .04 parts per million- a discovery of major concern for Nye. Bill Nye, a strong advocate for scientific rationalism, argued that this is due to human induced climate change. In 1965, the United Nations had a total board at the New York City World Fair that estimated the world population at 2,999,999,999. Now, in 2015 it is 7.3 billion! "This has substantially more than doubled," Nye says, "that is why the climate it changing." Nye's message was loud and clear: we need to be the generation that stops climate change.
To be the catalysts for change, Nye encouraged us to be like his mother's generation. While Ned Nye and many other men were either taken prisoner or fighting in the war, she was recruited by the Department of War to work on the enigma code. She, along with most other US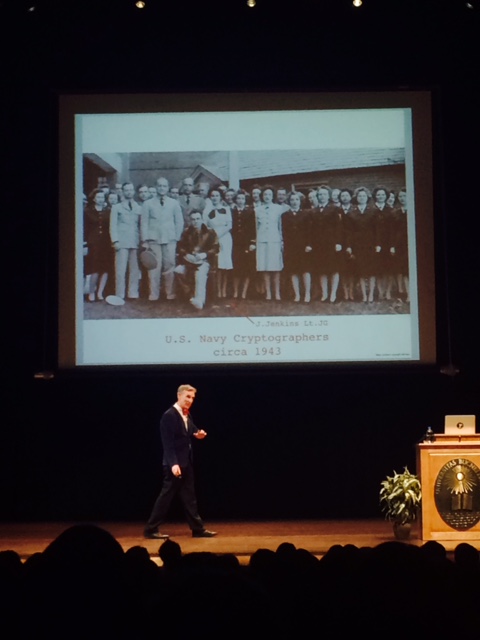 citizens, was doing all she could to contribute to the war effort.
Such perseverance of the "Greatest Generation" – the diligence, the courage, and the optimism all contributed to winning the war. If we think about our planet like this, with climate change as our enemy, We Can Do It too. This might be the most important thing that Bill Nye has taught us yet: "with our brains, we can know our place in space with the cosmos, and with our brains… we can CHANGE THE WORLD!"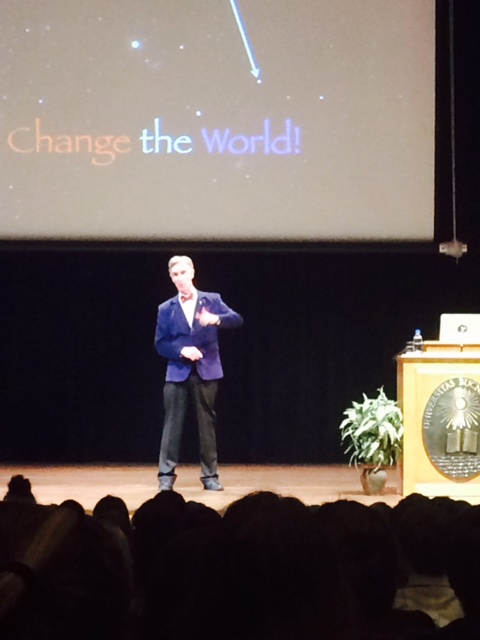 I asked a few students why they are such big fans of Bill Nye:
Bill Nye made science interesting and fun. Science doesn't have to just be confined to books but is all around- we all feel experience, feel, touch science. Even years later, he is also still present in science education. - Abigail '17 Spanish/Biology Major
I remember the first episode I watched. I was in third grade and it was about earthquakes. I wasn't good at science but he showed me how to simplify and see the basic concepts. This philosophy has stuck with me since. - Rus '19 Undeclared (most likely English)
Everything he does, I like to do! - Katie '19 Environmental Engineering
-Carly